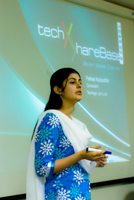 Knowledge shared with the right intent can do wonders for any person or organization. With this aim in mind we continued our tradition of Knowledge Sharing and here are the details of our second event that focused on Business Intelligence. The event managed to cover BI in general, its basic components, and Microsoft's BI Solution as well.

The event commenced with an opening speech delivered by Sana Arshad, in which she discussed the significance of Business Intelligence in this era. Briefly touching upon its impact on our industry, she related its use in the IT sector and how it can be used to gain a competitive advantage and thrive in times of change.
Next up, Fahad Azizuddin, a Professional Services Director at Techlogix with over 13 years of experience in Business Intelligence, shared the knowledge and expertise gathered from his years of experience in this field at some of the top Business Intelligence Vendors in the world. He answered many of the guest's questions in this interactive session and successfully conveyed the power of this technology.

Succeeding Fahad's address, a presentation was shared with the guests that highlighted Microsoft's view of this technology. It gave an overview of what Microsoft had to offer in terms of BI solutions, and was much appreciated by the audience.
Business intelligence (BI) environments are changing nowadays, and quite dramatically. A better understanding of it has to be gained to use it effectively to one's advantage, so Usman Naeem, who is currently a BI Consultant at Techlogix, related his experience in this field and discussed the various tools that came along with it.
(Credit: Sana Arshad)